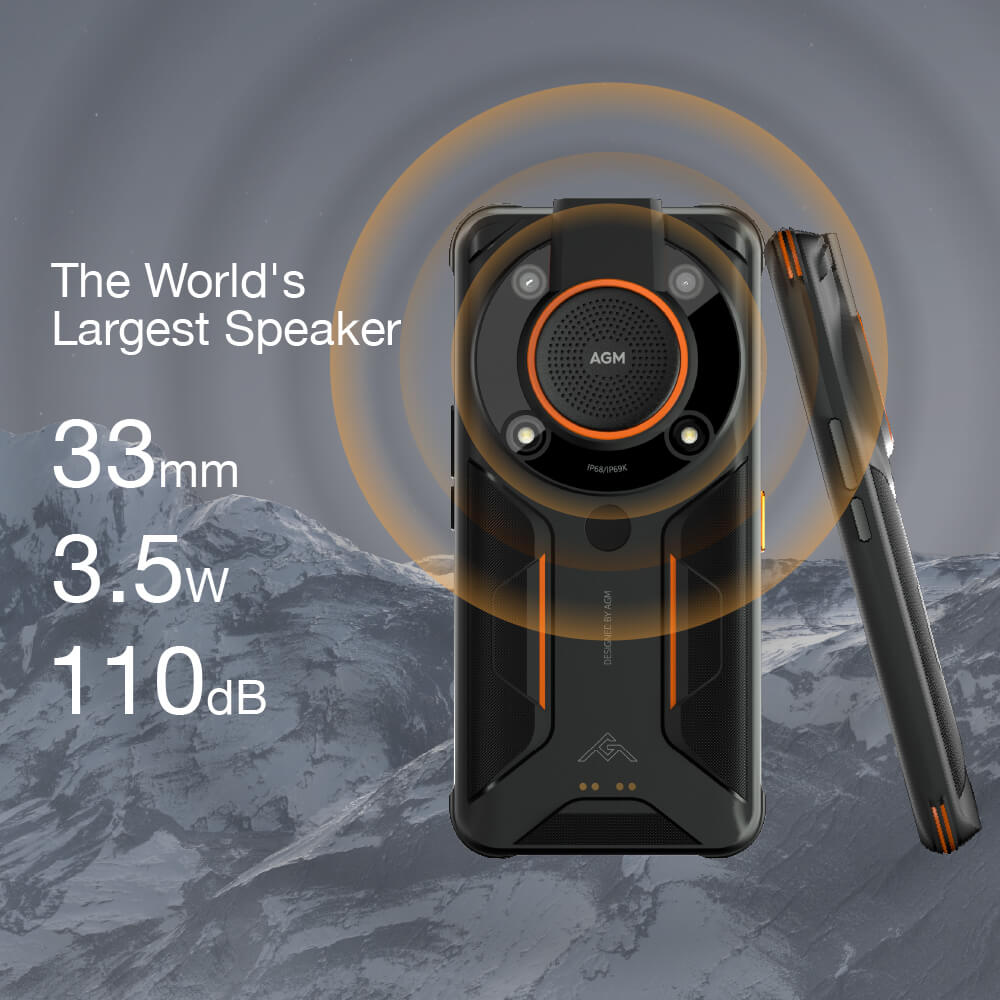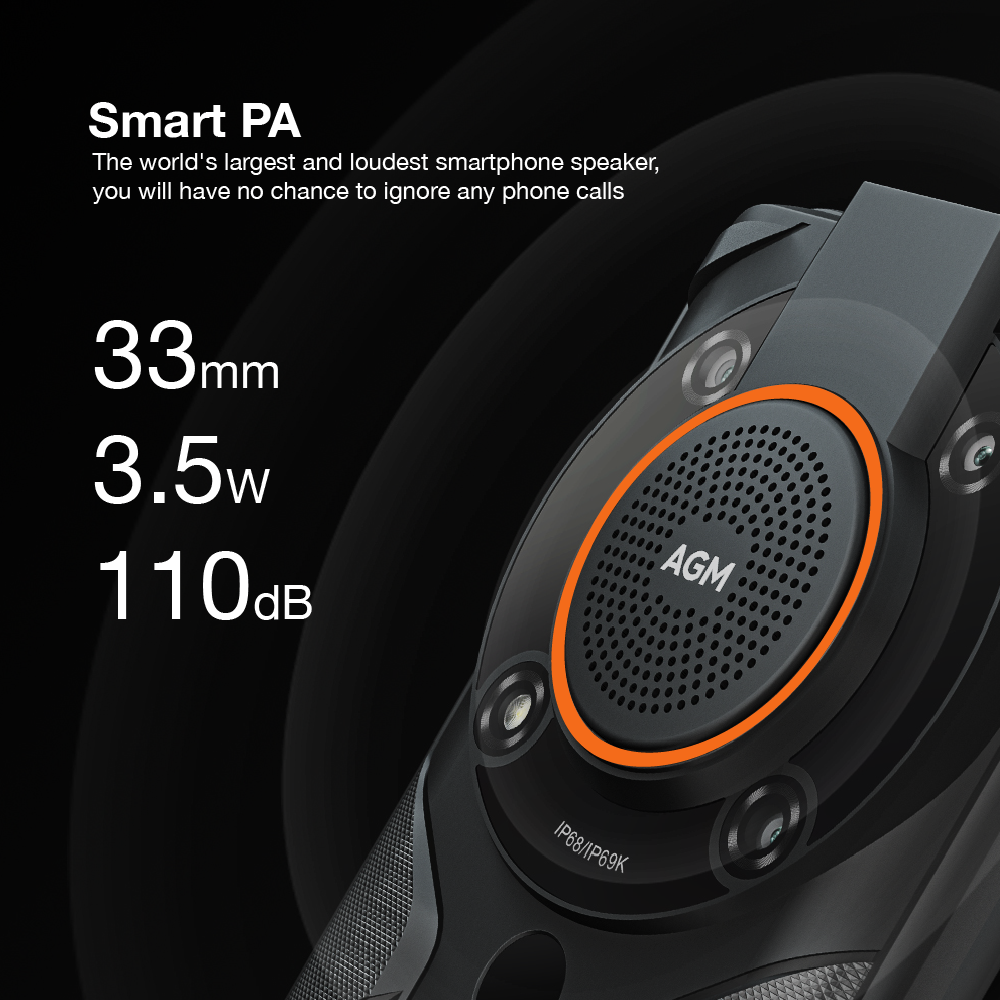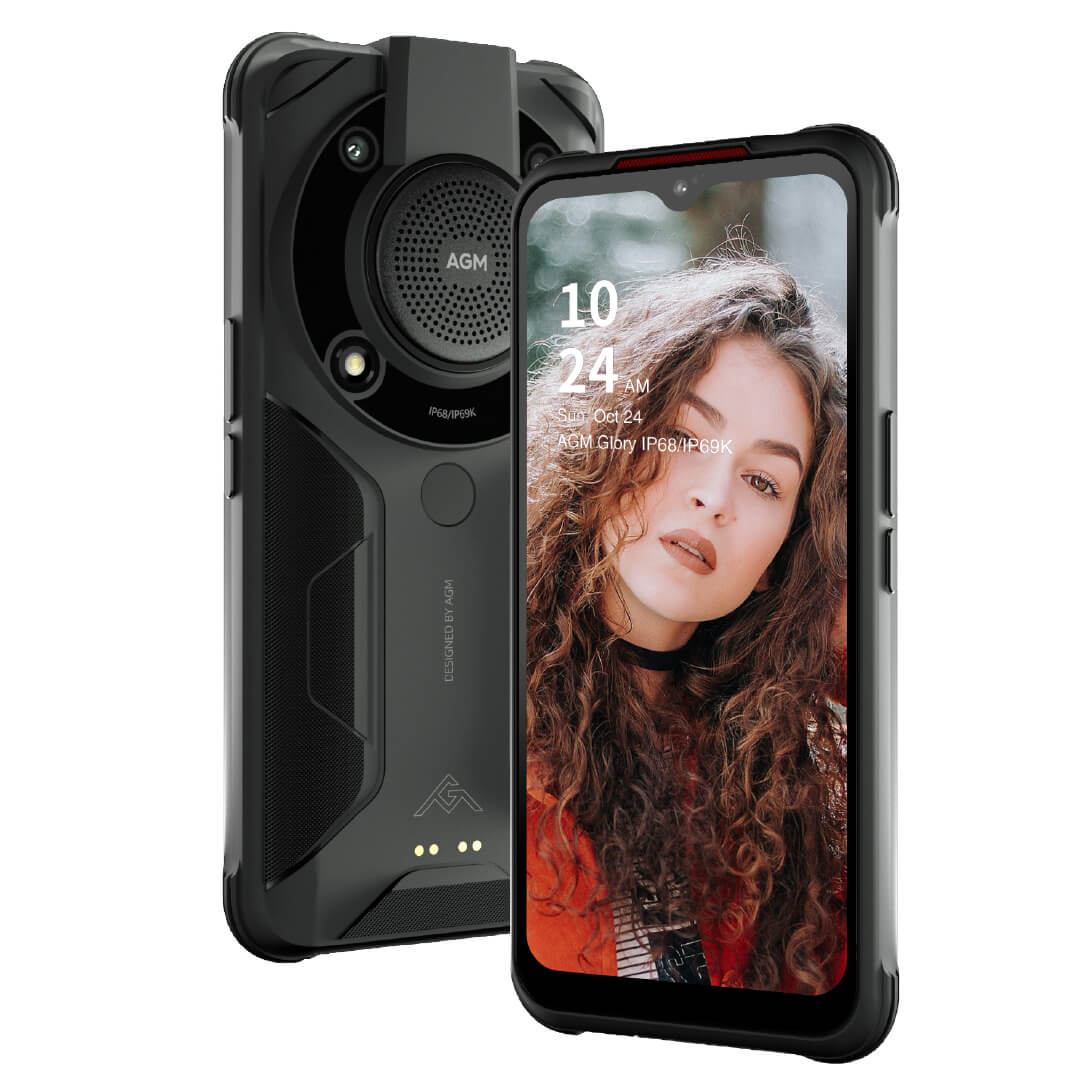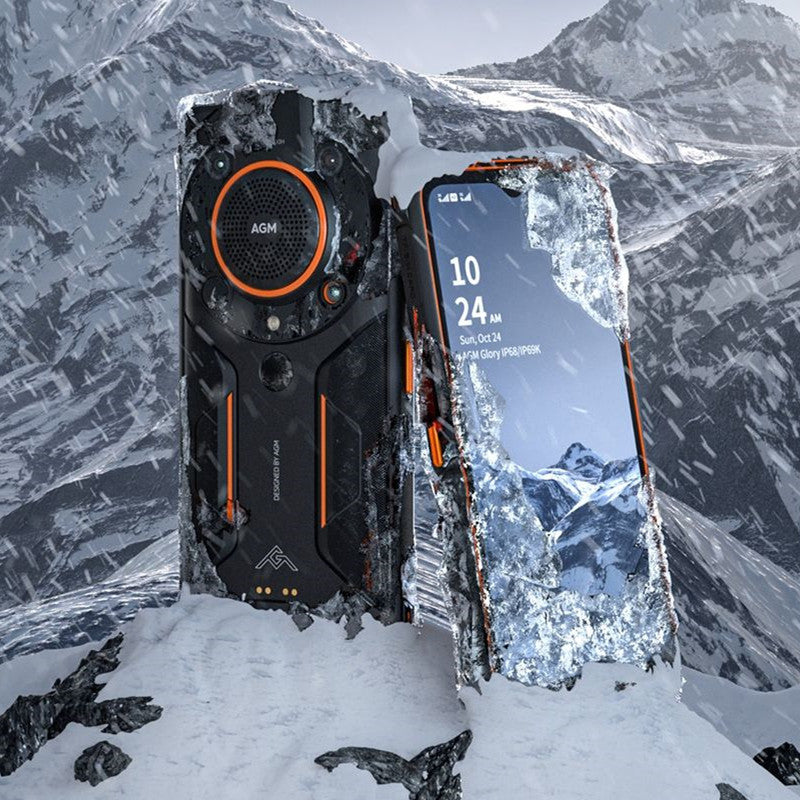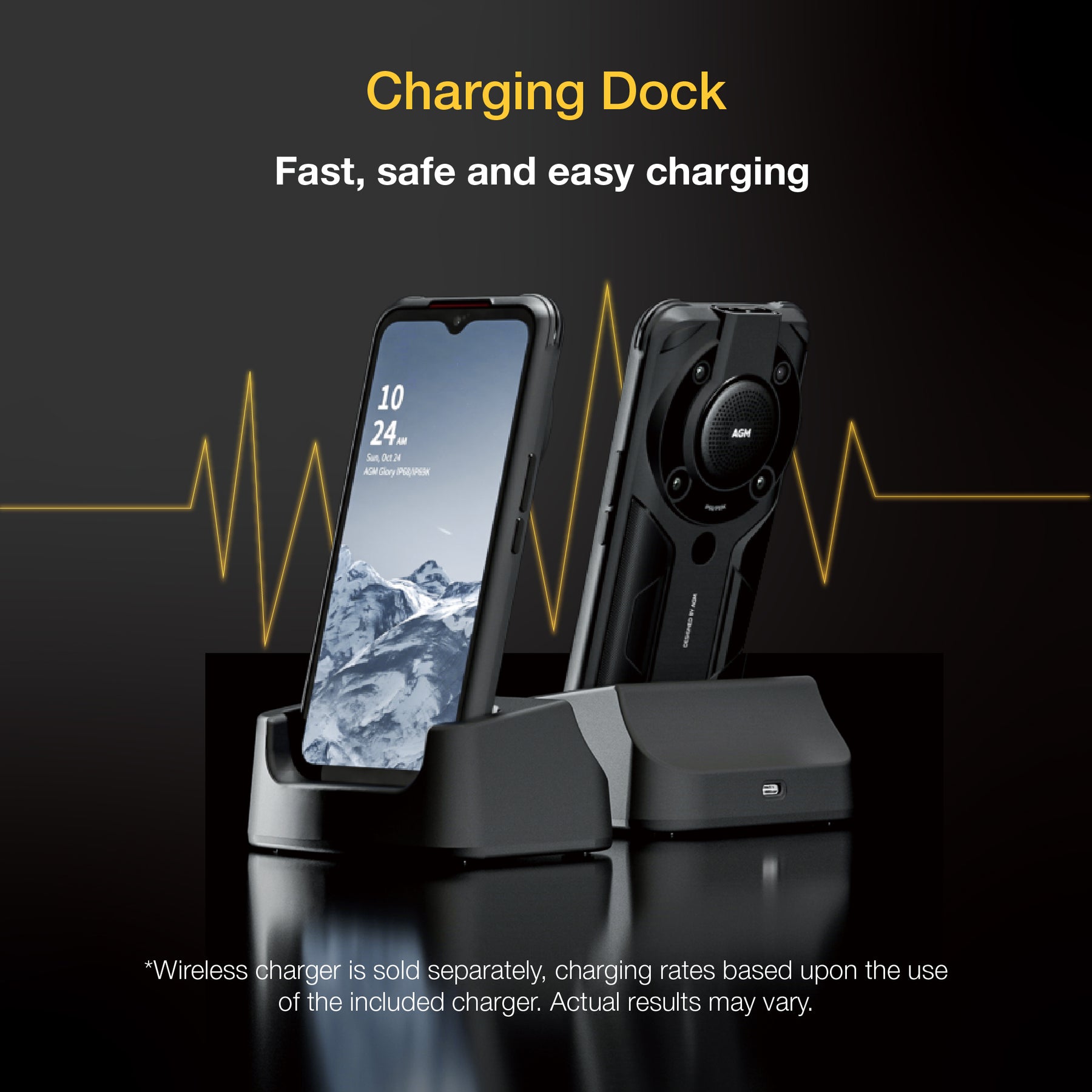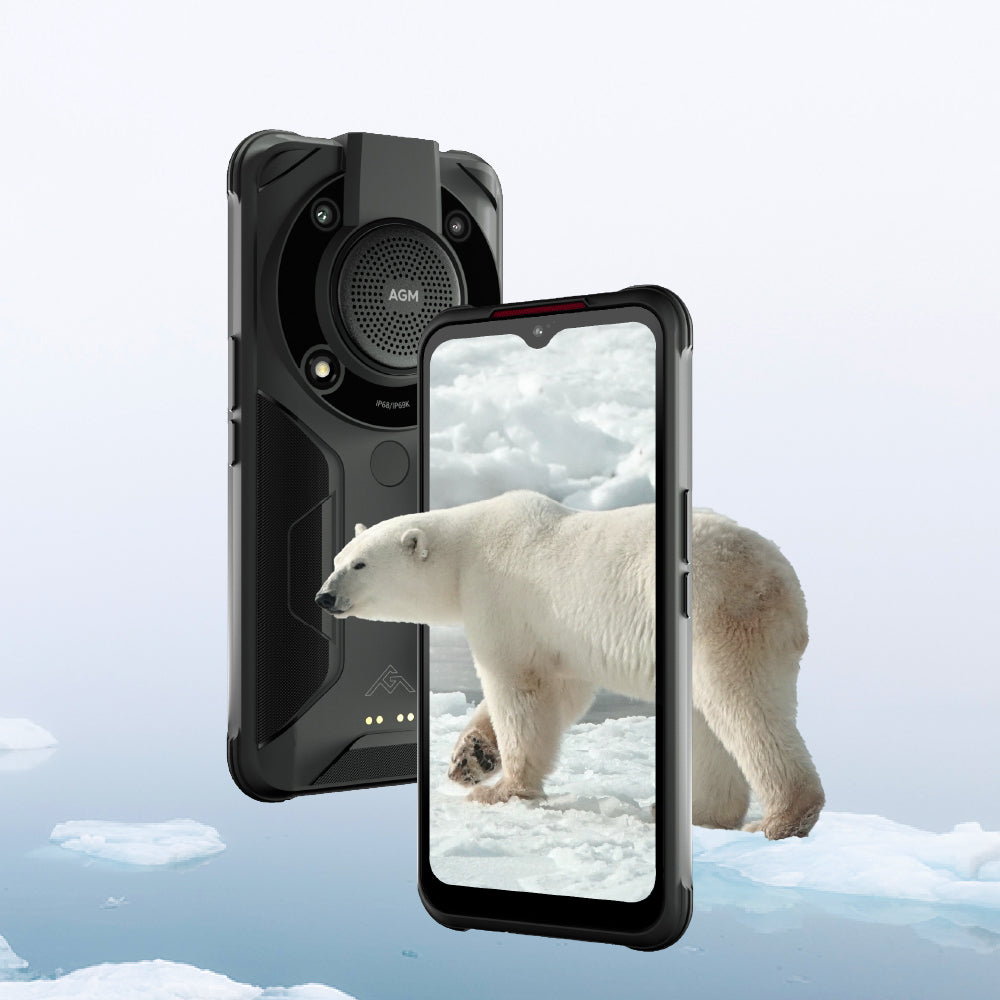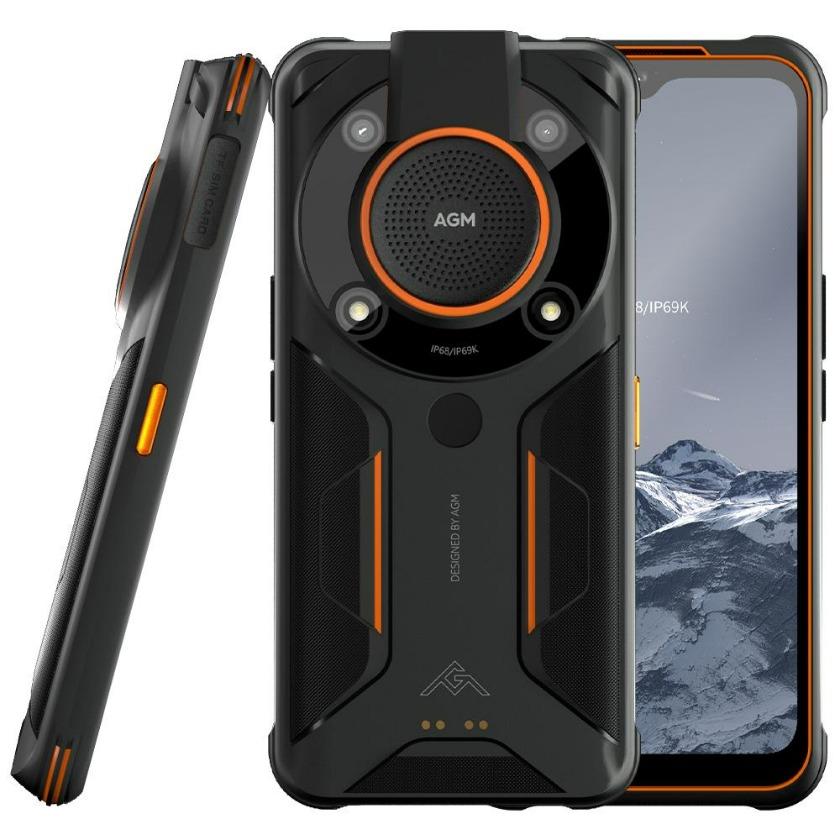 AGM Glory SE | 5G Unlocked Rugged Smartphone | HK Warehouse
Qualcomm 5G | 110dB loudest Speaker | Dual-Torch Module | 6200 mAh Arctic Battery | IP68/IP69K/810H | 6.53inch FHD+ Display | Dual Frequency GNSS | Android 11|

🔥 Hot Sale🔥
🎁 Just add the AGM Buds to cart and Use the code AGMBUD to Get your $69.99 AGM Buds For Free!🎧

*For the USA Area customers, Only for T-Mobile user.
Model:
Glory SE (8GB+128GB)
Accessories:
Without Charging Dock
HK Warehouse:
HK (Delivery within 14-21 days)


【One Day Power Under -27°C】
Stay connected for a day without worrying about shutdown under -27°C thanks to a 6200mAh cold resistant battery. Up to 22 hours usage under -27°C.

【Visualize the Heat : Industrial Top Thermal Camera】
Best phone thermal imaging you can find, 2x the resolution and 1/2 of the reaction time than the best phone thermal imaging in the market.
Merasures all objects within 5 meters
Industrial Mode accuracy: ±2.0°C,
Ranging from rather -20°C ~ 150°C, or 100°C ~ 550°C.

【Qualcomm Snapdragon 480 Octa-Core Processor 5G】
4-series's first 8 nm process chipset,supporting SA and NSA modes. TDD, FDD, and Dynamic Spectrum Sharing(DSS) for unbeatable flexibility and accessibility.

【33mm 3.5W 110dB Speaker】
The world's largest and loudest smartphone speaker, you will have no chance to ignore any phone calls, but you should warn your friends in advance, or they would think it as some earthquake alarm.

【IP68/IP69k/MIL-STD-810H certified】
AGM Glory is rugged, drop proof, dust proof, and water proof. It withstands drop from up to 1.5m on concrete and survives under 1.5m of water for 30 minutes.

【Global Version Unlocked Phone】
Compatible with GSM carriers, and Lyca Mobile. Not compatible with Consumer Cellular, Cricket, Verizon, etc.

【Quad Rear Cameras with Infrared LEDs】
Sony 48MP Camera + 20MP Infrared Night +16MP Front + 2MP Macro Camera.

【6.53-inch LCD FHD+ Screen】
6.53-inch LCD screen, FHD+, 2340*1080 resolution with floating framing, gorgeous and tough. The 10-point multitouch panel eliminates any conflicts for you.

【Latest Android 11 OS Glory SE 8G+128G /Glory 8G+256G / Glory PRO 8G+256G Storage】
Run the latest Android 11 OS for a smoothest performance. Glory SE 8GB of RAM, Up to 128GB / Glory SE 8GB of RAM, Up to 256GB/ Glory PRO 8G+256G Storage of internal memory, expandable up to 512GB via microSD (not included).

【Other Features】
Wireless Charging, Wi-FI, Bluetooth V 5.0, GPS, GLONASS, Beidou, OTG, NFC, Multiple Sensors,TYPE-C, QC 3.0, Dual Mic Noise Reduction. Compatible with charging dock (It need to buy separately.)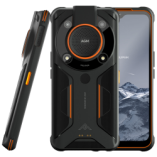 Glory SE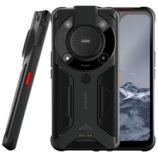 Glory
Glory PRO
Waterproof/Rugged Touch screen smartphone
174.8*84.2*17.5mm (max 23mm)
Double injection plastic with TPU protection
1 nano SIM + 1 Micro SD card or 2 nano SIM
Qualcomm® Snapdragon™ 480 5G / 8nm Octa-core CPU up to 2.0 GHz
Support Micro SD card up to 512GB
GSM: B2/B3/B5/B8
WCDMA: B1,B2,B4,B5,B6,B8,B19
LTE-FDD: B1,B2,B3,B4,B5,B7,B8,B12,B13,B17,B18,B19,B20,B25,B26,B28AB,B66
LTE-TDD: B34 B38 B39 B40 B41
5G NR: n1, n2, n3, n5, n7, n8, n28, n41, n66, n77, n78
*For the USA Area customers, recommend for T-Mobile user.
Incell, 10points multi-touch
A-GPS / GPS / Glonass / Galileo / Beidou Dual frequency GNSS
Plug earphone as FM antenna
802.11 a/b/g/n/ac/ax-ready (2.4GHz,5GHz) MIMO 2x2
48MP AF, Sony IMX582, f/1.79, 1/2.0", 6P
20MP with 2 Infrared LEDs
20MP with 2 Infrared LEDs
Thermal Imaging Camera
Resolution 256×192
L1: -20 to 150°C, L2: 100 to 550°C
Refresh Rate: 25Hz
3.5w max output, Φ33mm size, with smart PA
2 microphones, Noise suppression
USB connector type C form factor
4 pogo-pin contacts on backside
1 button "volume +" on the right side
1 button "volume -" on the right side
1 programmable buttons (Push To Talk)
Li-ion polymer wide temperature range One day power under -27℃
3.7V/6200 mAh non-removable
9V/2A 18W power adapter,QC 3.0
Desk Charging Dock / QI wireless charger
Disclaimer: Specifications may change without notice, images are for illustration purpose only. Color may very, colors and features may not be available in all market, please check with retailers for exact offer.
1.【What kind of glass is the screen? 】

It's listed as tough like Diamond. But what kind is it?It is made of fiberglass, very tough, no destroy drop from 1.5m high.

2.【I don't think you understood my question. i know the frame is tough fiberglass. but i was speaking of the front clear screen. is it gorilla glass?】

The screen is made of Tempered glass.

3.【What's this smartphone's CPU?】

AGM Glory smartphone adopt the Qualcomm Snapdragon 480 Octa-Core Processor 5G for unbeatable flexibility and accessibility.

4.【Does it support wifi 2.4, 5.0 & 6e?】

Yes, it supports 802.11a/b/g/n/ac/ax-ready.

5.【What is the cold resistant battery?】

The battery capacity is 6200mAh, it can stay connected for a day without worrying about shutdown under -27°C.

6.【Does it support the GPS?】

Yes. It supports Dual-Channel positioning, always double check your location, reducing the error into 3 meters.

7.【Is this google's stock andriod 11? will i be able to update as it's available by google? such as security updates or new andriod versions?】

Yes. It is google's stock andriod 11, very safe. But you can not update a new android version.

8.【How about the storage?】

It has 8GB RAM + 256GB ROM, expandable up to 512GB via microSD (not included).

9.【Is it compatible with charging dock?】

Yes.You need to buy the dock separately.

10.【Does this smartphone support the wireless charger?】

Yes. We supports wireless charging.

11.【Is the speaker loud enough?】

It equips with a biggest 33mm 3.5W 110dB speaker,louder than the house alarm.

12.【Does this phone is compatible with metro pcs?】

No, this phone is not compatible with Metro PCs.

13.【What's the night vision camera?】

It has a camera system with Sony 48MP camera + 20MP infrared night +16MP front + 2MP macro camera.

【How can i be sure that AGM phone are really waterproof,dustproof and shockproof?】

All AGM phones comply with the IP68 standard which ensures resistance to dust and liquids, for temporary or prolonged periods depending on the terminal and under normal use as recommended by the manufacturer. All of our models have undergone strenuous waterproof and resistance tests to comply with these standards as well as the MIL-STD-810H standard. In addition we have also developed our own standard called OEPT (Outdoor Environments Performance Test) to further protect the devices.

【How long is AGM phone guaranteed for?】

All AGM devices are guaranteed for one year.

【Where can I buy AGM Phone?】

AGM Phone can be purchased through this Website Store, AliExpress Store, Amazon Store etc.

【How to check if the network frequencies is compatible in my country?】
1.Check which network standard and which frequency bands your phone supports
2.Search your local network operator via Google browser to learn more about the latest local network standard and the frequency bands; Click here to check (just for reference):http://maps.mobileworldlive.com
3. If there is a frequency bands which your phone supports matched with the local frequency bands, you can use the phone in your country

【How to use OTA to update Android system?】

Find the app "update" or "System update". It will show that your system is up-to-date after update package installed.

【How if my phone is always too hot?】

It is normal that the smartphone device gets hot when playing videos or games on it or charging it, however, you can reduce the hot by following actions:
1.Turn off the function and apps seldom used such as Wi-Fi, GPS etc.;
2.Turn down the brightness of the screen;
3. Turn off the apps running in the background periodically and clear cache periodically to keep enough running space all the time;
4. Uninstall abnormal apps with bugs which may cause much heat during running;
5. Do not use phone during charging unless necessary.

【How to get aftersales warranty?】

AGM provides authorized aftersales warranty in Europe and Russia.
If you are outside Europe and Russia, please check with the dealer where you buy for service.

【Can i use this phone in my country?】

We add a link to show you how to check the phone, whether it can be used in your country.
1. All our smartphone is unlocked for worldwide use, but please check if your local area network is compatible with our AGM phones, You can check this link: Willmyphonework.net Or " Maps.mobileworldlive.com " To see the network frequency for your country,
Please confirm with your carriers or suppliers before purchasing this product.
2. Most of the two sim mobile phones have only one sim slot supporting 3G WCDMA / 4G network.

【I didn't get my parcel, how to do?】

1.No logistic information for a long time: We will send you tracking number after we sending items, if the losgistic information updated normally, hope you can don't worry about it and just wait more days.If you didn't get the parcel more than 90 days, we will refund you full money.If parcel shows delivery, we do not accept refunding request anymore.You may also need to pay customs tax.
2.Parcel was returned by customs office: If it was hold by customs office, hope you can go there to make clearance as soon as possible, we will try our best to help you to get the parcel from customs,we do not refund if parcel returned caused by buyer reasons.
https://cdn.shopify.com/s/files/1/0078/3581/1929/files/Jan_13_Glory_SE_EC_Updated-15.jpg?v=1642055733